When you create a ticket, a marking coupon is automatically assigned by the application to each service.
The color and the number of the coupons are assigned according to the parameters saved in your account. You can see them
in the lower part of the ticket being created, under the icon in the shape of a hanger "marking" (1),
in the central part of each ticket on the main ticket screen (2).


However, it is possible to manually choose the color and number of each marking coupon.
- Click on the tab "Cloakroom Coupons" (3). On the screen appear the available coupons according to the colors and numbers you have used previously.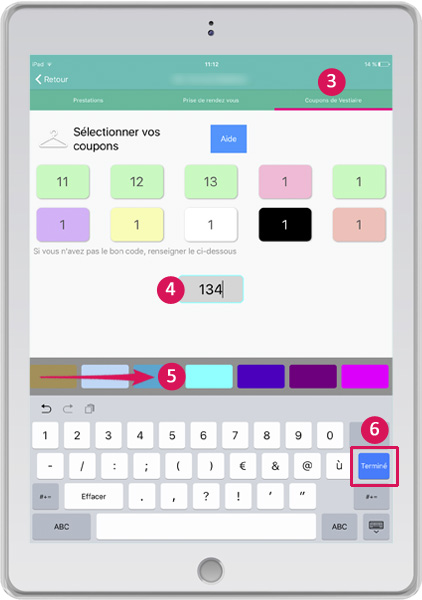 - To generate a personalized coupon, click on the gray "Code" field (4) in the middle of the page.
- Enter the number you wish to assign to the coupon.
- Choose the color you want to assign to the coupon by dragging the color strip above the keyboard (5).
- Click on the blue "Done" button on the keyboard (6).
- An emerging window allows you to:
Create a coupon number without creating a stub.
Do not enter a number and click on "Cancel" (7). Only one coupon will be created.
create a counterfoil of the chosen color. In this case, enter the number of the last coupon and click "OK" (8). The coupons will be proposed sequentially when you create your next tickets.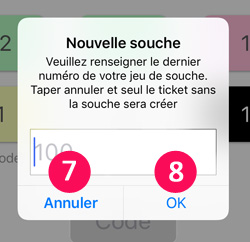 Did you know that?
Items by order will correspond for example to: a formula (detail 1), a suit (detail 1)
Items by marking will correspond to this coupon detail, for example: starter, main course and dessert (detail 3), a suit pants + suit jacket (detail 2)