This article is about the Hangers Pro 2.0 cash register.
You want to modify a ticket at any time, even if it has been validated?
- Open the ticket you want to modify from the main ticket screen.
- In the upper right corner of the ticket summary screen, click "Edit" (1).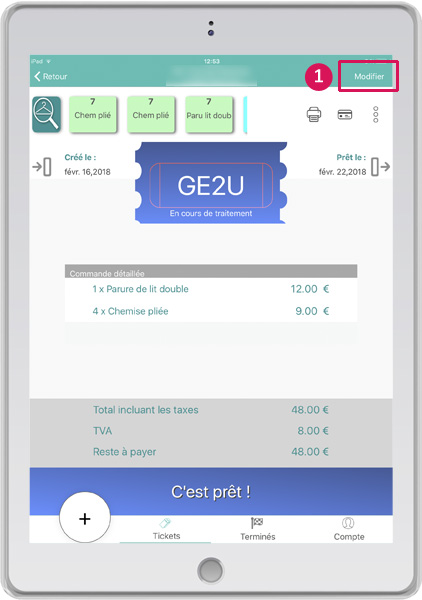 - You can modify all the information of the ticket in the same way as when it was created: the services of a ticket, change the appointment date or modify the marking coupons:
to remove services: see the article "Check/modify the customer's basket",
to add services: click on the corresponding cards, as you would when creating a new ticket,
to change the appointment date: simply click on the new date in the "Appointment booking" tab,
to change the marking coupons: proceed as you would when creating a new ticket.
- When you have made all the changes, click on the "Go" button at the bottom of the screen, as you would do to validate a new ticket.

To go further
To make changes on the payment of the ticket (refund, credit note, cash in advance, ...), see the articles in the "Payment" section. To cancel a ticket, see the corresponding article.

Good to know :
-Tickets for your private customers can no longer be modified once they are marked as COMPLETED.
-Tickets for your business customers can still be modified until the invoice is paid.
- Please note that if you modify a recurring order, the modifications will be reflected on the hits that have NOT yet been generated. If necessary you will have to modify the occurrences already created if the changes apply immediately.