You are directed to the "Item Selection", either after selecting/creating a user (1) , or directly after selecting the Plus button depending on the settings for your business. For more information, on how to set this go to our article "Set your business workflows"
- To add a service to the ticket, click on the corresponding card in the list (2).
- To select the same service several times, click the corresponding number of times on the card of the service concerned. example: for 3 folded shirts, click 3 times on the "Folded shirts" card (2).
Une fois que vous avez renseigné le client, vous êtes dirigé à l'écran des "Prestations" (1).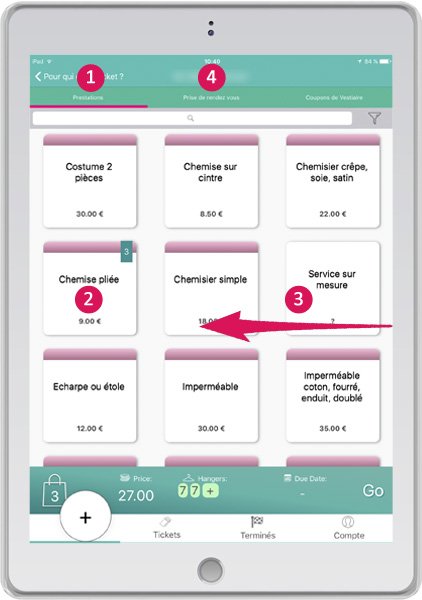 Hangers Pro v2.0
- Select as many services as necessary.
- Slide your finger on the screen from right to left (3) or click on the "Due Date"/"Booking" tab (4) to set the delivery date.

Did you make a mistake? Don't panic! Don't panic!

At any time during ticket creation, you can modify the services and their quantity by clicking on the basket at the bottom left of the screen. See also the article "Check/modify customer basket".

Did you know that?

The list of products is refined according to your customers' habits. Frequently deposited products will be placed at the top of the list to avoid a tedious search.
For articles submitted more occasionally, you can filter the list of items or use the search: see the article "Search for a service".