When you offer a service, there is a step to inform you that the order is ready
To mark a ticket as "Ready", you have several options:
mark the services as performed as you perform the work (see the article "Marking a service as performed"),
mark the entire ticket as ready at once.
To validate the entire ticket at once:
- In the main ticket screen, click on the ticket you want to mark as a ready.

You are directed to the ticket summary. In the upper part of the screen, the coupons of the services marked as already performed are checked (1).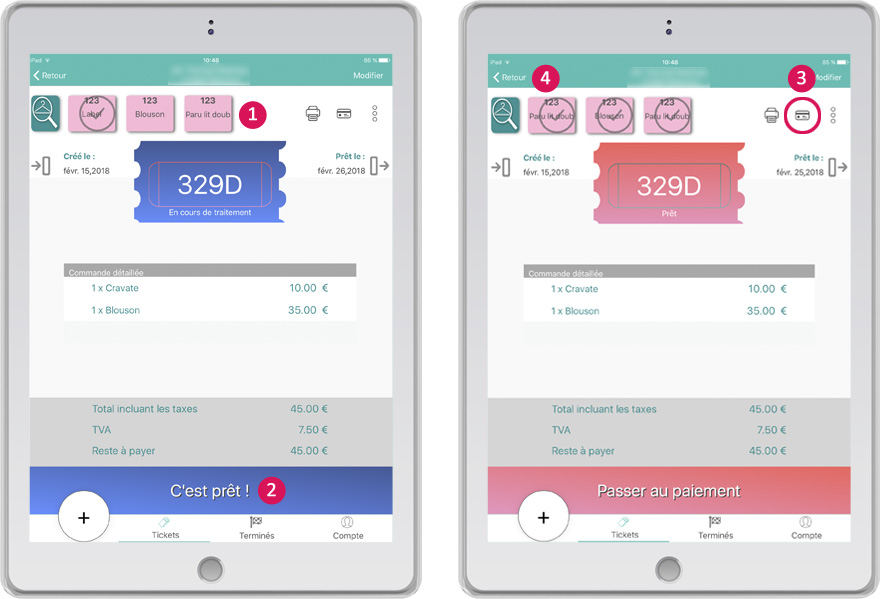 Hangers Pro V.2
- Click on the blue button "It's ready!" (2) located in the lower part of the screen. The ticket turns red.
- Like then You will want either:
to collect the amount of the ticket by clicking on the icon representing a credit card (3) (see the article "Collect the ticket payment"), or another mean of payment.
to return to the main ticket screen by clicking on "Back" (4) in the upper left corner of the screen.
In the main ticket screen, you will find this ticket under the "ready" tab.