😅 Got a lot of editing to do?
🤓 Do you prefer to work on Excel?
Then why not use file imports to manipulate your data?
⚡️ functionality only in Advanced et Entreprise subscription

To proceed with an import, go to the My Catalog / File Exchanges menu or if you are logged in by clicking on the link :

And then: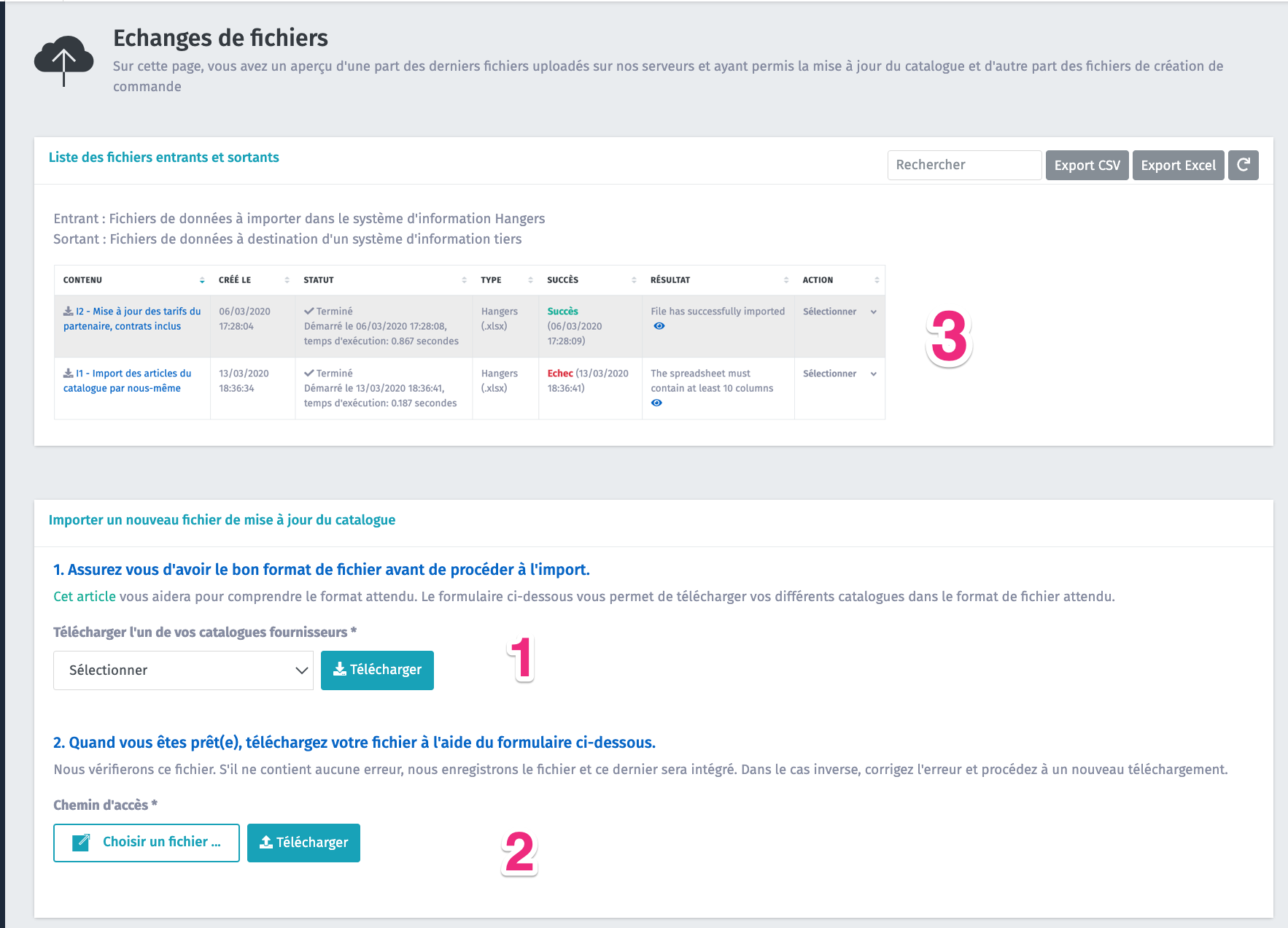 1/ Choose the template for the data you want to modify. (1)
2/ Fill in the data on the template. Each template has its own instructions. 👉 See the different imports available.
3/ Load your modified excel. (2)

4/ Follow the status of the download. (2) The status are pending, success, failure. For failed files, select the file to upload with the correction help.
5/ Repeat for the lines in error.

Warning !
- This is a sensitive functionality, you will need to be whitelist to access it. The first time you will receive a 10 min training, for your submission. The support team will assess it, if you have no error the functionality will be activated on your account.
- In case of error you should not reload all the file but often only the lines Error, otherwise you will make duplicates 😖
- In case of too frequent errors, the functionality can be disabled, you will have to pass a competence and security audit (charged https://hangers.io/terms#a31) for the reactivation of the functionality.
Did you know

Here are the different imports available:

- I1 : for New Item Setup
- I2 : to price Updates
- I3 : for Ingredient Setup
- I4 : for the update of attribue core of product, service and service complex (pack, assortment, variation, formula).
- I5 : for Variations Setup
- S1 : for Inventory Setup
- S2 : for Inventory Updates
- U1 : to set up your customer database
- U2 : to update your customer database
- U3 : to set up your B2B customer bases
- C1 : to set up your credit accounts
- C2 : to update your credit accounts

- R1 : to set up your recipe data sheets.