The first step in ticket creation is to enter the customer's data.
- From anywhere in the application, click on the circle with the + sign at the bottom left of the screen.
- The "Who is the ticket for?" screen appears and the keyboard appears. You can view the cards of all your customers: in blue or pink the private customers, in grey the professional customers.
- Start by typing the client's last name in the "Name" field (1).
- If the customer already exists, the system will display the coincidences directly. Click on the card corresponding to your customer and you will go directly to the next step (see article "Choosing services")
- If you are a new customer, continue to fill in your information. In order to better know and serve your customers, we advise you to fill in as many fields as possible.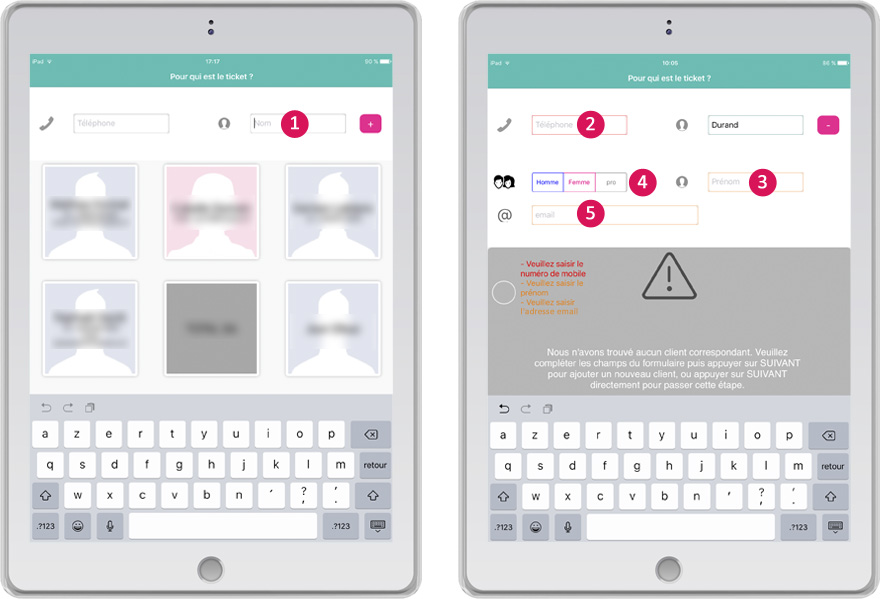 Hangers Pro v2.0
- Fill :
Lastname (1),
Mobile Phone (2),
Firstname (3),
Civility (4),
Email (5).
- Once the customer data has been entered, switch the keyboard by pressing the keyboard button: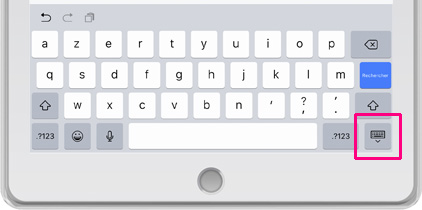 - Press the green "Next" button to add services to this ticket.


Anonymity:
If the customer does not want to leave a name or phone number, you can override it.
Keep in mind, however, that if your customer does not leave their phone number, they will not receive any text messages when their order is ready.
In addition, according to studies, one in twenty customers loses their tickets. It is potentially a lost customer...
Please note that a number or email cannot be used by more than one user at a time. In the event of a change of ownership, please contact Hangers support, which will carry out a KYC to edit this information.

Did you know that?

Did you know that?
Hangers Pro will take the local number from the report unless otherwise specified, otherwise it is necessary to enter the code. For a checkout in the US, the software will automatically add +001 before the information provided. It is important to fill in this information when sending SMS messages.

Did you know that?

On your web space, you can retrieve and modify your customer's information. To do this, go to your web space, then unfold the My Customers menu and click on the Individuals menu.
Click on the filter bar to search for your customer or export your results.
Your Pro Customers are to be created from your web space. See the article Your professional customers